Leo Álvarez
This Christmas, enjoy El Capricho Roast Beef at home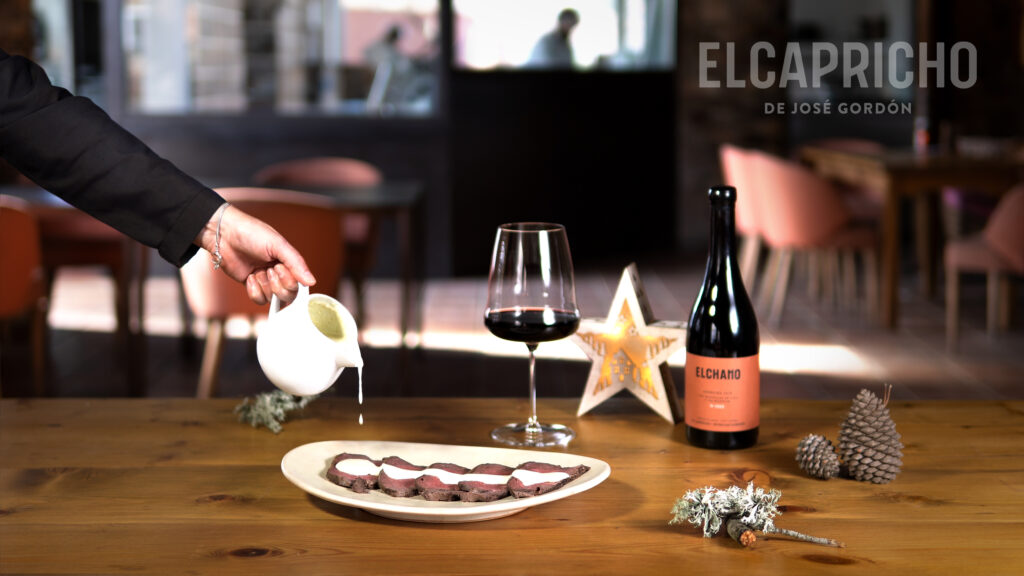 Roast beef is a dish that comes from English cuisine, and is widely consumed in countries such as the UK, Australia, Ireland, New Zealand and the United States. In recent years, it has become very popular in Spain, and at El Capricho we wanted to bring you a special version of roast beef created by our chef Diego Zarate.
During these holidays, when we will have to spend time in our homes with those closest to us, a wonderful lunch or a tasty dinner will help us to remember this Christmas with the same fond memories as other years. What better way to do it than by tasting authentic ox with this roast beef recipe designed to surprise your guests?
Discover the special edition of El Capricho roast beef
To present this ox roast beef and tell you all the details of this limited edition dish for the Christmas holidays, we spoke to Diego Zarate, chef at El Capricho. He tells us how to prepare this recipe, the different options for eating it at home, and the idea that led him to create this dish for preparing at home like a professional chef.
How is this dish prepared at El Capricho?
Following the philosophy of purity at El Capricho, of home cooking, this ox sirloin roast beef is prepared as follows.
Add coarse salt to the outside of the ox sirloin roast beef, massaging the meat well with the salt and some ground black pepper. They are the only two added ingredients.
Cook the meat at a low temperature of around 130ºC, until the interior of the meat reaches 45-50ºC.
Afterwards, quickly cool the roast beef. This rapid change in temperature will allow the meat to be cooked to perfection so that it can be consumed either hot or cold.

What is the best way to eat ox sirloin roast beef at home?
The cooking process that we follow at El Capricho allows you to consume it hot or cold. If you prefer to eat it cold, you can slice it cold. If you decide to eat it hot, roast it again gently so that you get a pure product cooked to perfection when it reaches an internal temperature of 50ºC, measured with a meat thermometer.
Sauce for the roast beef
To accompany this delicious roast beef recipe, we have prepared a tartare sauce, which we also send to the customer.
The sauce is prepared with a cream cheese base and pickled vegetables. It contains gherkins, mustard, capers and chillies. We were trying to make a sauce that would create a harmony between spicy and tart on the palate. This adds a piquancy to the dish, without stealing the limelight from the roast ox itself.
Why is this roast beef recipe ideal for a Christmas dinner?
Our idea is to create a very special dish, always working on the basis that the recipe could maintain the purity of El Capricho's philosophy: simplicity, product and flavour.
We want to offer a pure product that does not lose the original flavour of the meat. In ox roast beef, the flavour and texture of our meat is the protagonist, which is why we suggest a recipe with very few ingredients: ox roast beef from El Capricho, salt and tartare sauce. Simple and unique, like our meat.
The best wine for this roast beef
So that you can accompany this dish with the best wine, we asked our sommelier, Agustí Peris, and he recommends a wine that is not too heavy. This excludes most Mediterranean wines, Ribera del Duero wines and most Riojas.
We propose four options for you to choose from:
Dominio de Bibei 2016.
Guímaro de fincas.
A Ponte or Meximan (both 2018).
And of course our exclusive wine, El Chano, 2018.
If you are looking for a special dinner for this Christmas at home, you can also enjoy our Christmas Box with the best El Capricho ox sirloin roast beef.
The cuts are limited, so you can make the purchase now and we will serve it for the dinner you choose (Christmas Eve, Christmas, Epiphany…). We will send it to your house and you simply have to consume it the way you like best and accompany it with a good wine.
Enjoy authentic ox meat; go on, treat yourself!