Leo Álvarez
Making our way…

It has been a long road and at the same time we feel that we have always been here, right where we are; then one day the world's gaze fell on us. Today we want to share how people started talking about José Gordón's restaurant El Capricho.
For us, the starting point came in 2000, when the Vino+gastronomía magazine –in particular the food critic Ignacio Medina – enthused about how he had rediscovered meat in this town in León.
In this article, which we love best because of its honesty, judgment, freshness, and because it was the first, Ignacio spoke of José as a survivor and he described the meat  served as incredible, transporting him back to a lost landscape of many years before. "I am thrilled by the effort made by many humble chefs to remain faithful to the product, a quality which is increasingly scarce and often criticised by the same people who should be trying to keep it alive," he wrote. Thank you, Ignacio.
Years later came a turning point for us in terms of the impact made by our work. Lydia Itoi, a Japanese-American food and travel writer for the European edition of TIME magazine, asked 'Where's the Best Beef?' and according to her, El Capricho was the place to find it. No wonder a good chop is hard to find.
This article put us on the map for all aficionados of great beef, of those who are passionate about things done slowly, with respect for the authentic and full of the essence of the past. Many media outlets contacted us, and articles were published in publications such as Observer Food Monthly, The Guardian and Vogue. In 2010 we reached Germany in Stern magazine, and in 2012 the magazine Feel It, which is published in Angola, Cape Verde, Mozambique and Portugal invited people to enter the depths of El Capricho and taste its ox chop "with its genuine taste and incomparable texture".
In 2012, together with José Carlos Capel, José Gordón was invited to Madrid Fusión to talk about his know-how and his experience in ageing meat, arousing great interest. In this edition he shared a space with top professionals such as Magnus Nilsson from the Faviken restaurant in Norway or Miguel Ángel de la Cruz from La Botica de Matapozuelos. The Fuera de Serie magazine in the newspaper Expansión praised the master grill chef José Gordón to the skies and put him on its cover, shouldering a spectacular aged ox loin. In 2013, Gentleman and Esquire magazines wrote long articles showing how a whole way of understanding gastronomy had come together.
A year later another milestone was made, with an appearance in the documentary Steak (R)evolution, which showed the different places around the world where you could get really fabulous cuts of meat. The director Franck Ribière and the prestigious butcher, Yves-Marie Le Bourdonnec travel from France to Argentina, travelling via the United States, Japan, Sweden, Italy, Great Britain and Spain visiting the best farmers and beef restaurants in the world, such as Maison Bras in Laguiole or the Peter Luger Steak House in New York. The film concludes that the best beef in the world, after having tried kobe, flamenco red, Aberdeen Angus, Galician Blonde, etc., is in León (Spain) and is served by José Gordón in his restaurant El Capricho, in Jiménez de Jamuz.
The magazine Courrier Japon talked about our unique product in 2015, and GQ brought us back to the attention of the Japanese the following year, at the hand of a great chef and a great friend: Hirohisa Koyama, owner of two of the most popular restaurants prestigious in his country: Aoyagi in Tokushima, founded by his grandfather, and Koyama, in Tokyo.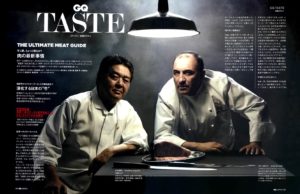 Later came the Spanish edition of EGO from the editorial group HEARST España, the Norwegian magazine REN MAT, which offers investigative journalism and in-depth information on food and raw materials of the highest quality.
We cannot forget our appearance in The Wall Street Journal last year, with an article by journalist Oliver Griffin titled "Like Your Steak Aged 36 Months? Try 17 Years". The writer is surprised at José Gordón's tireless passion for producing superb beef; a unique product, full of authenticity.
There have been many publications that have echoed our journey, reaching places we never dreamed of and allowing many people to meet us and visit us in our home. It has been a long road, but nothing compared to what remains to be travelled, every day with the same determination, effort and love for this animal, the ox.